Congratulations on your engagement!
Amid all the excitement, you're probably asking yourself: "What do I do now?"
If so, you're not alone. Getting engaged is the beginning of one of life's happiest adventures. But let's face it – planning a wedding can also be overwhelming. As you're probably starting to realize, from choosing a venue and dates to food and flowers, the options can seem endless.
As wedding professionals, we've seen it all, and we know how many decisions there are to make! But the good news is, you don't have to figure out every detail right away. Before you get too wrapped up in gorgeous gowns and floral arrangements, take a few moments to set yourself up for low-stress wedding success by making sure you're tackling these 3 big steps in the right order:
1. Ask the big questions.
Since you've already found this article, we'll assume you've started doing at least a basic Google search on venues and locations. But before you fall too far down the research rabbit hole, it's a good idea to have a discussion with your fiancee to make sure you're on the same page about some basics. Establishing a few important details up front can help you narrow down your choices and start making decisions instead of getting paralyzed by too many options:
Location. Will you get married near your current home, choose a spot between your hometowns, or have a destination wedding?
Venue type. While being flexible about the type of wedding venue you're looking for will open up options, some couples have their hearts set on a specific look. For example, if you and your fiancee both know you'll want something very specific like a Lake Michigan beach wedding, the search will be relatively straightforward (and maybe that's how you found us!) On the other hand, if you have only a general idea of the kind of wedding you want, or the two of you think you want different things, you may need to get more creative with your search (more about that later.)
Time of year. You'll need to have at least a basic idea of how soon and what time of year you want to get married, but we recommend holding off on choosing a specific date until you've locked in a venue, since that is often the limiting factor.
Budget. While you will likely need to do some research to find out what kind of wedding budget to set, it's a good idea to have at least a ballpark idea of your range. (Psst – when it comes to getting the best experience for your dollar, we believe small-town weddings provide the best value!)
Size. Will the wedding be an intimate event, or will you need space for 300? This may drastically affect both your location and the availability of venues, so carefully consider not only how many people are on your "must-have" list, but also how easily the major players will be able to travel to the locations you have in mind.
Style. Start looking at wedding-related Instagram accounts and Pinterest boards to get a feel for the aesthetic you're most drawn to. Many venues can accommodate a wide variety of wedding styles, from beautifully boho to rustic, or classic elegance to vintage, but certain venues will definitely lend themselves better to a particular look and feel than others.
Let us help you plan your big day!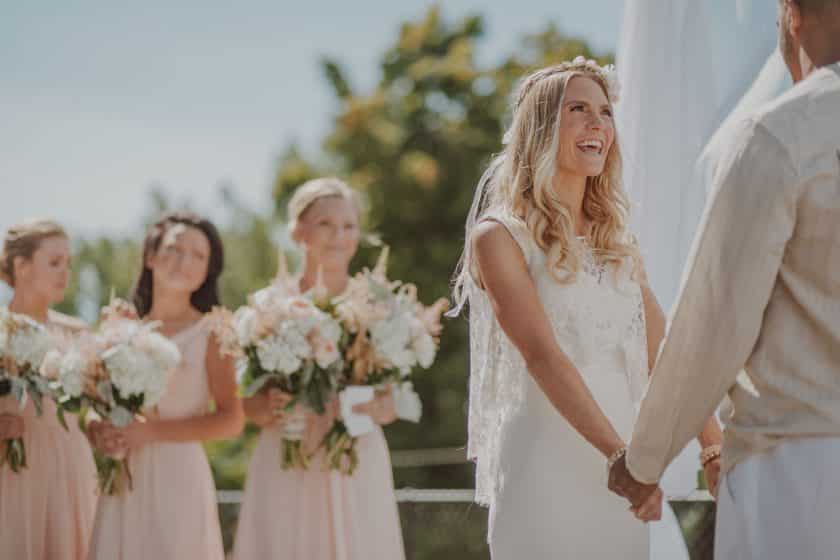 2. Research venues.
Now that you've answered some of the most important questions, it's time to start looking for a venue. Whether you're starting from a wedding website like The Knot or starting from scratch on Google, the more detailed you can get in your search, the better your results will be. That's why it's great that you already made the big decisions: your research will be so much more effective! For example, if you know you want a rustic winery wedding between Chicago and Detroit, using specific search terms or filters will help you find appropriate venue websites. Once you've located a few venues that catch your eye, double-check details like how many guests they can accommodate and price ranges.
Once you've found a few venues you like, reach out – it's time to schedule a tour. And prepare to ask a lot of questions! Check out these articles to prepare for your venue tours: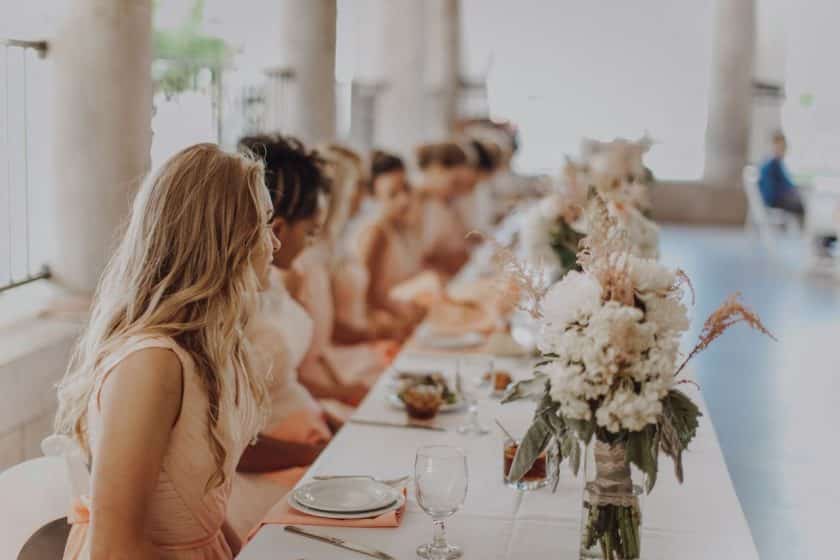 3. Choose a date.
Chances are good that you fell in love with a specific wedding venue – or perhaps it was a tough choice, but budget or location helped you narrow it down to a winner. Now that you've settled on a venue and know their availability, it's time to choose a date! When making this important choice, here are a few things to consider:
Work schedules and time off. How much time will you be able to get off on either side of your wedding? How many days do you want the festivities to last? These days, many couples are opting for Friday weddings because they often open up more availability and can also set the stage for a relaxed weekend with family and friends.
Weather. If you're planning an outdoor wedding in Michigan, your date window will likely naturally be limited. If you're an adventurous couple, you may be able to use Michigan's unpredictable weather to your advantage by choosing a date on the edge of the season that other couples shy away from – or you may find that you prefer to play it safe and choose a time of year that's likely to be mild and dry. Whatever you decide, make sure your wedding venue has a backup option in case of inclement weather. For more tips, read our guide to planning an outdoor wedding.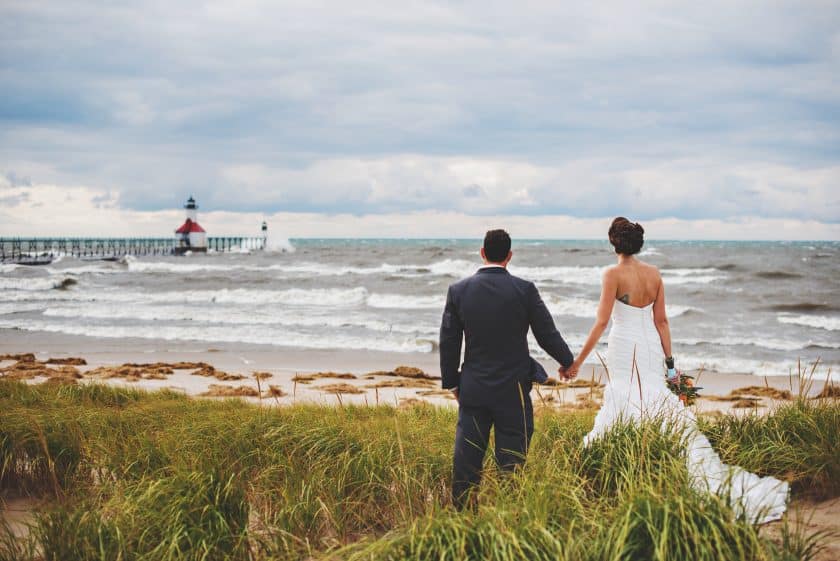 Once these three steps are done, you're ready to dive in on all the fun details like choosing a gown, selecting a menu, and planning the wedding festivities. Our partner 1928 Planning Company can help you with those details and more, and their blog is a fantastic source of wedding stye inspiration.
Congratulations again on your engagement! Like our Michigan beachfront vibe? Get in touch and we'll get to work planning a special and memorable day for your wedding party, guests – and especially for you and your fiancee.