Having played host to so many weddings here at The Veranda, we know no two weddings are ever decorated the same – which is why we love them so much! We've seen simple and sophisticated to elegant and elaborate – and no matter your style, here are a few decor ideas that can make a big impact!
Lighting
Our amazing coordinator Danielle recently wrote a post about the importance lighting can play in your wedding reception decorations. Be sure to check out some of the pictures she posted that highlight how much a few bits of lighting can bring to our space. And even if you have chosen a more traditional location like a banquet hall, there is still so much lighting can do for your venue. My top picks for lighting enhancement? Uplights, pin lights on centerpieces, and tables lit from underneath! And here's a tip for you that we just recently discovered – with all the LED lighting products you can buy now, opt for warm white lights because they provide a better "glow" and reach further than traditional LED's.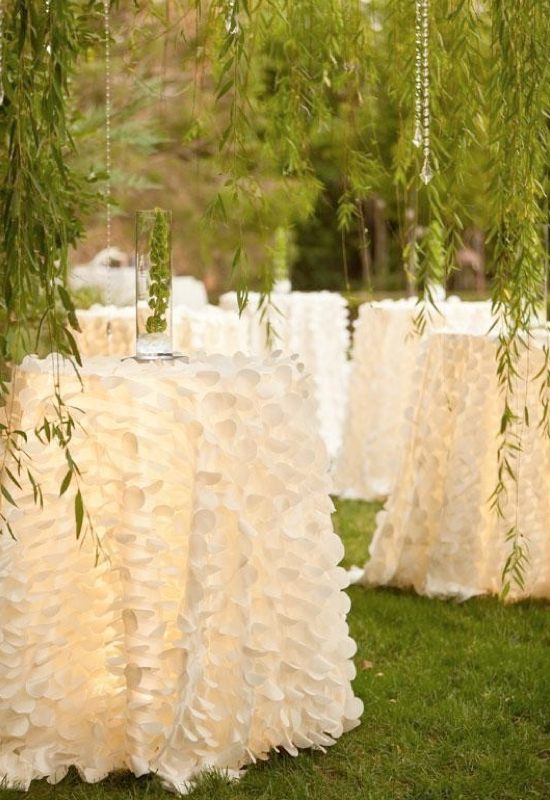 Specialty Linens
Before getting started in the wedding industry I never would have thought linens would make much of a difference in wedding reception decorations. But I can certainly admit when I'm wrong! Some of the most beautiful weddings we've seen have very simple decorations but have spent the money instead on knockout table linens. Check out the pictures below for some of my favorites this year! And if you don't have the budget for high end linens on all your guest tables, consider just getting linens for the cake table and gift table, or maybe even just for the head table. Even a few linens can make a big impact!
Pay Attention to Height
It's often an overlooked aspect of putting together your wedding reception decorations – but paying attention to the height of the venue, and how you use it, can make a big difference. No matter the style of venue you choose, there is typically room to play around with adding dimension to your decor. Things like utilizing tall centerpieces, hanging items from the ceiling, or even one of my new favorites – adding giant balloons, can transform a seemingly simple room into a more appealing, larger space. And on the flip side of that- placing decor like flowers or candles on or near the floor will create the illusion of a fully decorated room even if you haven't spent a fortune on these items.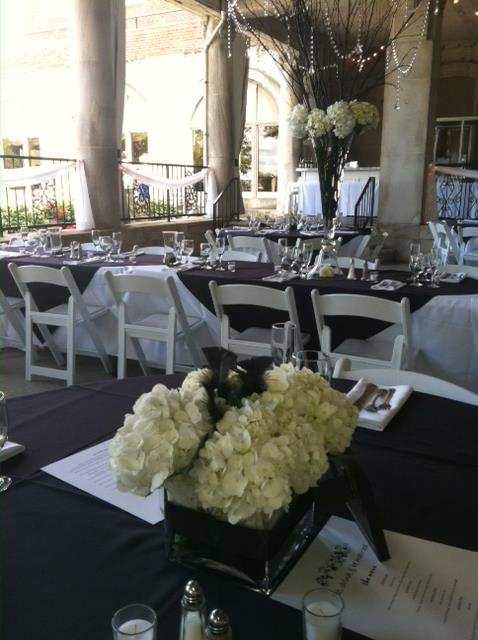 Unusual Pairings
And finally, creating combinations of items that might not typically be paired can create a dramatic impact on your wedding reception decorations. Some of my favorite non-traditional pairings: modern/vintage, casual/formal, and masculine/feminine. Creative pairing intrigues guests and draws focus away from any not-so-appealing areas of the venue. You can check out some ideas below (like whimsical umbrellas or glamorous chandeliers paired in an opposite-feeling venue) or visit Danielle's post on masculine wedding touches for more inspiration!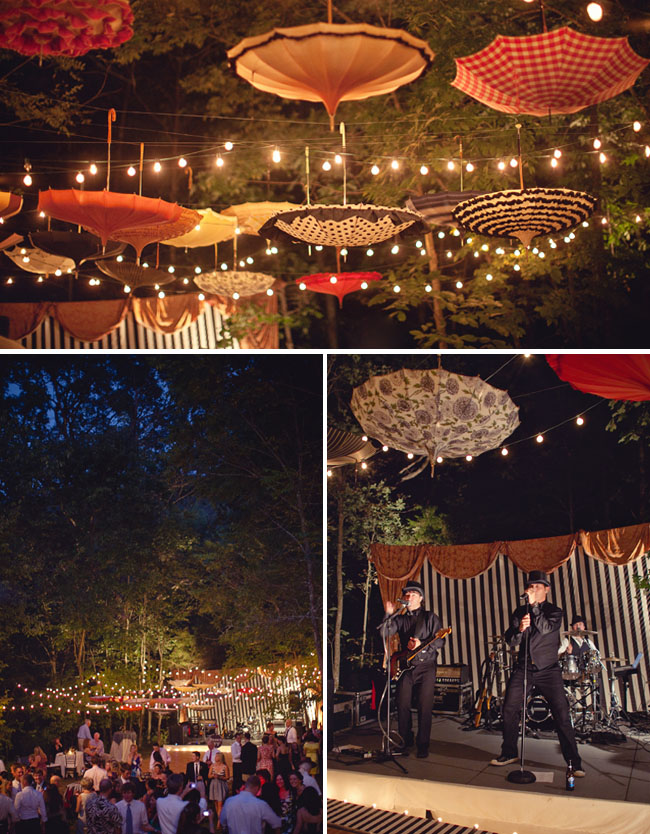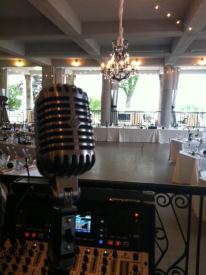 Certainly not everything you incorporate in your wedding reception decorations has to be a big impact item, but possibly incorporating one or two of these ideas will pull your vision together and give you the effect you are looking for on your big day!
Have Fun Planning!
-kristin ♥