The 2013 wedding trends prediction has begun! I've been diving into all sorts of articles and blog posts recently about expected wedding trends for this coming wedding season (isn't my job the greatest!) and one trend in particular is one I can already see our Veranda couples moving towards – intimate weddings.
At first glance I expected "intimate weddings" to mean smaller guest lists, less formal events, parties held closer to home, etc. etc. Which, to some extent we've seen at The Veranda @ The Whitcomb – many more requests for smaller weddings this coming year. However, delving deeper into 2013 wedding trends, I've found that more intimate weddings doesn't necessarily mean smaller.
We have some really large weddings on the books for this season but they still have that really personal feel that encompasses what this coolest of 2013 wedding trends truly represents.
So if you are the couple working on keeping your wedding (no matter the size) an intimate wedding, here are a few wedding reception ideas we've found to keep that cozy feel!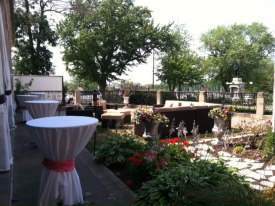 1. Implement the reception lounge. This is a great way to help guests feel more "at home". Create a living room-esque space where guests can relax away from pounding music and give them the comfort of hanging out with people they may not get the chance to sit and talk to on a regular basis. Pretty easily done too – round up some comfy couches, chairs, pillows, throws, and kick back.  This is one of the coolest wedding reception ideas we've seen recently.
2. Incorporate tastes of home. We had a great intimate wedding this past year where half of the new husband/wife team was from a southern state and the other half from Michigan. They incorporated some good ol' southern cuisine into their menu and offered Michigan wines (of which there are some amazing ones!) as part of the menu. Other small touches here and there brought tastes of home to the reception decor, favors, and even color scheme. Does your hometown sell the most amazing hot dogs? Consider bringing the vendor, or some form of their goods, with you!
3. Have a photobooth – and post the pictures. Having a photobooth at your reception is not a new idea – but we have seen weddings where the booth and the resulting pictures becomes a great way for guests to bond and feel like part of the action. Find a vendor that not only supplies the booth but has some creative way to let everyone in on the fun – and watch the waiting line to pose grow!
4. Do away with some of the more traditional "to-do's" of the wedding reception. Some of those long established traditions aren't the most inclusive of all your guests. And the best way to make your wedding feel like a wonderfully intimate event is for everyone to feel like they were a really important part of the day.
Things like the bouquet/garter toss inevitably leave out a good portion of guests, lots of time spent on specific dances leaves most guests sitting without participating, or even a whole line of folks waiting to toast the new couple leaves guests munching silently while listening to a speech. I understand there are some pretty sentimental pieces in any of these activities so if you can't eliminate it all together – look for a revision on one of these classic traditions that will include more of your group.
Ultimately, any time you spend taking the consideration of your guests into account, you are taking a step closer to a more intimate wedding.
Hope these 2013 wedding trends spawn some great wedding reception ideas – we'd love to hear them!
Happy Planning!
-kristin ♥