I have to be honest – last spring all I could think was Pink with baby #2 due in August. So this year I am even more excited to preview wedding colors having taken a year off. Pantone's 2012 color palet is a great one to get me back into the swing! I'm pretty sure it was created with The Veranda in mind.
The colors range from beautiful bolds to subtle elegant shades and are all so fitting for the blank canvas we have here. Even the color names – "Solar Power, Driftwood, Starfish" – have that outdoor, beachy feel that couples who choose The Veranda are often looking for.
Pantone's top color: Tangerine Tango – (pictured below against a grey backdrop comparable to The Veranda's coloring – courtesy of bellethemagazine.com)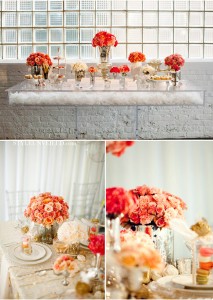 My favorite combination: Cockatoo (roughly the color in our logo), Starfish (the color of our lounge furniture), and Solor Power (just for brightness!).
Visit Pantone.com to create your trendy 2012 wedding colors – and feel free to share your ideas!! We love to bask in the creativity of others!
-kristin ♥