One of my favorite wedding trends is using mason jars as an ongoing theme for a wedding. I love it when couples think out of the box and use them in multiple ways.  At The Veranda @ The Whitcomb we've seen mason jars used as not only drinking glasses but for pillar candle vases, table number holders, and my favorite: do-it-yourself mason jar centerpieces! Do it yourself DIY wedding ideas are a great way to not only save some money in your wedding budget but to express your creative side!
Here is one the cooler DIY wedding ideas we've seen, courtesy bohemiankate.com!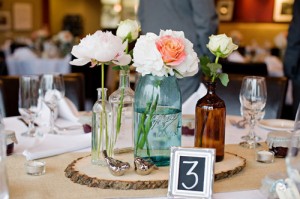 I love the simplicity of wedding centerpiece ideas like this; probably because I think of how beautiful it would look at a table setting in The Veranda! It doesn't take much to make a statement when you're using a stained mason jar. I love the idea of going to a local farmers market to pick up fresh flowers and creating your own flower arrangement rather than using a florist. Overall, this DIY wedding centerpiece project is very easy and cost effective, and totally different from using a traditional vase.
If you're feeling super crafty, here is another great example of DIY wedding centerpiece ideas courtesy of etsy.com!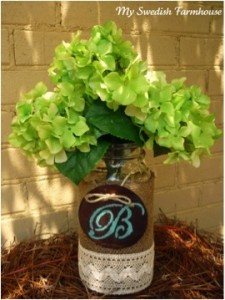 Depending on the size mason jar you decide to use, you will have varying lengths of the burlap fabric piece. Tying twine around the jar displaying the wedding date, monogram, or a quote is a great way to personalize a centerpiece. Keeping with a simple flower arrangement will look best for this kind of centerpiece because the mason jar is what's making the statement. Although completely interchangeable, using twine, ribbon, lace, etc will do a great job at accenting your wedding colors.
You'll be surprised at how much fun and stress-relieving DIY wedding centerpiece ideas can be, all while saving tons of money! Grab some family members or bridesmaids and make a day of it! Stay tuned to learn more DIY tips and projects to create the perfect setting for your wedding day!
❀ Danielle